Export Import Documentation India & Export Documents Format
E-Formz can be used to make an entire chain of documents required for an Import Export documents required for an Import Export documentation. Our solution for exporters & Export Import Companies provides help at every step of the trade order cycle, from generating proforma invoiceto managing shipping & customs documents. We provide customised Export Documents format from Inception to Shipping. E-Formz captures information at every step and generates entire chain of subsequent import export documents in one go. We do not have standard formatted document neither we try to impose such a format on you. We simply understand your exising document process and digitise them. We guarantee significant improvement in terms of time and efficiency. E-Formz is First Export Documentation Software in India that provides format for Export Import Documents on the cloud. The import export documents are completely resuable & can also be downloaded in a PDF or Excel Format. Checkout sample Export Invoice Format for live demo.
Our features are...
Customised Export Import Documentation
E-Formz allows you to customise any export import documents. Not only does it generate neat and crisp documents, it also reduces possible errors which helps you to efficiently streamline and automate your business processes and import & export documentation.
Save as PDF or MS-Excel
Traditional document publishing tools, like MS-Word or MS-Excel are not deisgned to generate Fixed-Aligned export import documents. E-Formz prints everyting in most portable and secure format i.e. PDF . All Import Export Documentation PDFs are saved online to be accessible anywhere, anytime. So you don't have to worry about print alignment. Additionally we can also publish export documents in MS-Excel or HTML as required.
Privacy
All your private information including export import documentation will be kept safe with us. Your information is accessible only to you. With multiple level of security and encryption, E-Formz offers best security an online software can offer. Additionally you can even restrict the usage to specific devices or computers. Additionaly we also sign NDA for legal safekeeping.
Re-Use existing documents
One of the key feature of E-Formz is to easily duplicate or re-use any existing document by just changing the minimal information and not the entire document. For example you generate a Export Invoice right out of an existing Excise Invoice with just one click.
Stay Organized
Managing all the documents with Export Documentation Software can be quite cumbersome. E-Formz manages all your documents in single dashboard. A full text search allows you to search anything in any document. Additionaly you can tag multiple documents and group them as a part of single consignment.
Starts from INR 10000.0
Our pricing for Export Documentation Software is extremely simple, ie we charge per document type. Charges include complete customisation and hosting. There is no restriction on the number of documents you can host or create. Being hosted on cloud storage, our storage grows with you.
Extremely easy to use User Interface with full-text search support.
---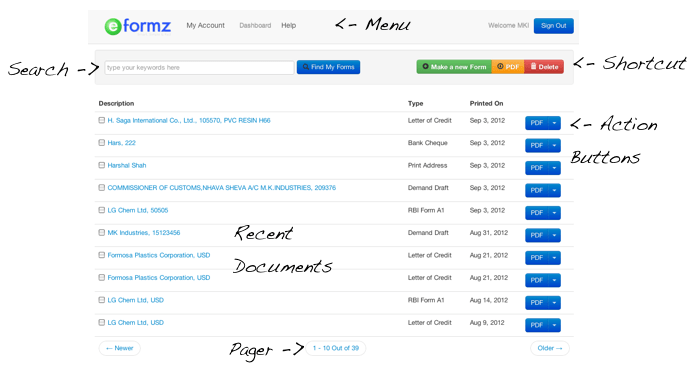 ✔ Simple, Fast & Secure

✔ Fully Customizable Documents

✔ Truly Online & Multi-User

✔ Track documents on Smartphone

✔ Email or FAX Directly

✔ Download as PDF, HTML or MS-Excel
See what our clients have to say...
---
E-Formz provides complete integrated suite to manage both manufacturering and exports. Having online software enables us to work from factory and office at the same time giving us solid collaberative user experience.

‐ Ankur Master, Aditya Industries
A truly online mutli-user software, E-Formz is completely customisable to our requirement. With little or no learning required, E-Formz has improved our efficiency & reduced clerical errors. We even imported our old legacy export import documentation .

‐ Kiran Patel, Sagar Exports
Being merchant exporter, we have varied range of customers, products and documents. We use E-Formz to organize, search and index entire set of documents and various government forms for each consignment.

‐ Tejas Sheth, Sheth Global
Which documents are currently supported by E-Formz ?
---