✔ Includes Proforma Invoice, Packing List, Export Invoice and much more

✔ 100% Customizable with your branding

✔ No Installation required.

✔ Can Duplicate Import Export documents

✔ Import export documents can be downloaded in a PDF or Excel Format.

✔ Maintains complete record of all issuance.

✔ Starts at just ₹

5000

Only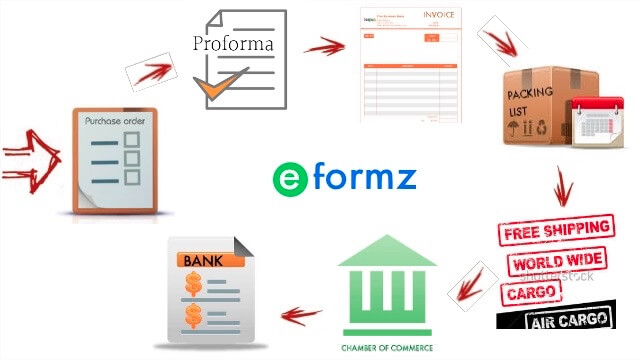 E-Formz can be used to make an entire chain of documents required for an Import Export Documentation. Our solution for exporters & Export Import Companies provides help at every step of the trade order cycle, from generating Proforma Invoice to managing shipping & customs documents. We provide customized Export Documents format from Inception to Shipping. E-Formz captures information at every step and generates entire chain of subsequent import export documents in one go. We have standard formatted documents, also we try to impose customized format. We simply understand your existing document process and digitize them. We guarantee significant improvement in terms of time and efficiency. E-Formz is First Export Documentation Software in India that provides format for Export Import Documents on the cloud. The import export documents are completely reusable & can also be downloaded in a PDF or Excel Format. Checkout sample Export Invoice Format for live demo.
Our features are...
Customized Export Import Documentation
E-Formz allows you to customise any export import documents. Not only does it generate neat and crisp documents, it also reduces possible errors which helps you to efficiently streamline and automate your business processes and import & export documentation.
Save as PDF or MS-Excel
Traditional document publishing tools, like MS-Word or MS-Excel are not designed to generate Fixed-Aligned export import documents. E-Formz prints everything in most portable and secure format i.e. PDF . All Import Export Documentation PDFs are saved online to be accessible anywhere, anytime. So you don't have to worry about print alignment. Additionally, we can also publish export documents in MS-Excel or HTML as required.
Privacy
All your private information including export import documentation will be kept safe with us. Your information is accessible only to you. With multiple levels of security and encryption, E-Formz offers the best security an online software can offer. Additionally, you can even restrict the usage to specific devices or computers. Additionally we also sign NDA for legal safekeeping.
Re-Use existing documents
One of the key feature of E-Formz is to easily duplicate or re-use any existing document by just changing the minimal information and not the entire document. For example you generate a Export Invoice right out of an existing Gst Invoice with just one click.
Stay Organized
Managing all the documents with Export Documentation Software can be quite cumbersome. E-Formz manages all your documents in single dashboard. A full text search allows you to search anything in any document. Additionally you can tag multiple documents and group them as a part of single consignment.
Starts from INR 1000.0
Our pricing for Export Documentation Software is extremely simple, i.e. we charge per document type. Charges include complete customisation and hosting. There is no restriction on the number of documents you can host or create. Being hosted on cloud storage, our storage grows with you.
Other Import Export documents currently supported by E-Formz?
---
Other Documents Available on Eformz Include
Eformz Also Provides Office Automation Tools & Forms . There is a variety of forms available for business & personal needs like Bank Cheque Printing, Export Invoice, RTGS Form etc.